Performance and Chante Nwel (Cancelled)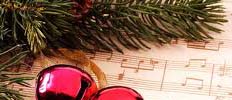 It is in a very warm atmosphere also in same practice of French Caribbean islands that we invite you to celebrate the event "Chante Nwel" (Christmas Sung) which consists mainly of Christmas songs sing in French on French Caribbean music.
.
Jean Tauliaut is a Traditional Dancer from the French Caribbean who incorporated a fusion of Jazz dance he acquired both in Guadeloupe and outside; Martinique, Guadeloupe, Guiana, France, USA…
The Choreographer (Jean Tauliaut), performed wit the great world renowned Ballets Caribana and danced with Alvin Ailey school of jazz and Ballet in New York.

He has taught in various places (workshops) and is well known in France with many performances in Paris and French Province
as well as the Caribbean to some of the biggest contemporary dancers in the world of Gwo Ka and contemporary Creole Dances.
Over the past 25 years, Jean Tauliaut worked towards perfecting a dance concept originating from the years of experience and
the places he visited and performed in with a strong African, Creole, and Jazz flavor he called Ka Afro Fitness in a bid to entertain and concentrate on the wellness of mind body and soul.

This new dance type that he created is registered and accepted now in France as a contemporary art concept
Jean Tauliaut will perform with one of the best available percussionist in France and the French Caribbean Emmanuel Reveille
Which surname means awoken in French which is what this duo bring on top of the entertainment value and learning our history
through physical and musical expression.

Click to view
[YoutubeFancyZoom=M_RG5Lmfx5E]
Zil'oKA performs French Caribbean traditional Dance, Drum and Song. Their performance can include a presentation of traditional Creole costumes and wrapping. Zil'OKA perform in traditional costume, and use traditional drums. Their performances are vibrant, authentic, and interactive.
(Check Zil'OKA website for Chante nwel 2012).
Click to view [YoutubeFancyZoom=FDbsNOIfpM8]
(bio)

About the tradition
In the Caribbean, at Christmas time, families and friends gather for Nwel sung,
meeting where interpreting carols very rhythmic.
These songs have been largely imported by missionaries from Europe
but the rhythms, and sometimes words have been adapted to local tastes.

In the Catholic tradition, the first Christmas carols were sung by the angels above the manger to celebrate the birth of the baby Jesus. Historically, the first Christmas carols were joyful songs evoking the Nativity, sometimes rhythmic songs or dances.

It's just magical and also a familly treat

Advance booking or Pay at the door