The Creole Day:
A unique event in the UK, the Creole Day brings together in one place live performances by Creole artists, traditional craft and food stands and conferences, all representing the diversity of the Creole culture around the world.
The event is a special day of celebration and entertainment for the whole family, inviting visitors to discover and enjoy the Creole world. About 700 people enjoy this event every year.
The Creole Day kick starts in style the Black History Month (more 
here
) and brings together more than 10 Creole regions, taking visitors on a one day-trip full of colours, sounds, flavours, and fragrances from several corners of the Creole world.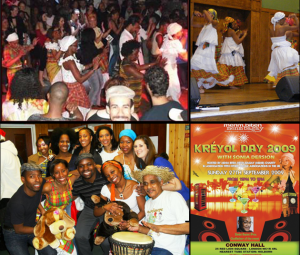 Traditional Christmas gathering:
During Christmas, MBMB organize or take part in several events inspired by the traditions that exist in the Creole Islands and gather families, friends and neighbors. Our main event is the Chante Nwel (Singing Christmas in Creole language).