Events
CHANTE NWEL (Cancelled)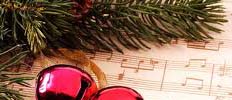 It is in a very warm atmosphere also in same  practice  of French Caribbean islands  that we invite you to celebrate the event "Chante Nwel" (Christmas Sung) which consists mainly of Christmas songs sung in French on French Caribbean music. JEAN TAULIAU performance, Zil'OKA performance, ZOUK party Check in @ the Africa Centre
[read more]
BLACK HISTORY MONTH
2012

Black History Month's purpose is nicely encapsulated in these words spoken by the former London Mayor Ken Livingstone; "In order to enrich the cultural diversity of the Greater London area, it is imperative that Londoners know more about African influences on medieval and renaissance European music so that accepted ideas about European music is changed. Despite the significant role that Africa and its Diaspora have played in the world civilization since the beginning of time, Africa's contribution has been omitted or distorted in most history books."
Black History Month is open to participation by everyone and is ideally developed, delivered and managed as an educational and historical awareness experience by Black people – African, Asian and Caribbean heritage – and should be shared by everyone as world history.  When:
1st to 31th October 2012
SEE ALL PROGRAMME IN YOUR AREA:
http://www.blackhistorymonth.org.uk/
http://www.black-history-month.co.uk/
IBHM 2012 
Exploring the Mind, Body and Soul Connection
The 2nd Intl Black Hairitage is back with
an afternoon of films, Q&A's, talk,
workshop as well as a Mini Market to
celebrate and explore the culture and
issues around natural living and holistic
health.
Intl Black Hairitage advocates
reproductive justice and economics
sustainability for African Descent people
worldwide.
International Black Hairitage Month
FULL 2012 PROGRAMME:
http://tinyurl.com/9vvgcxz
EARLY BIRDS OFFER AVAILABLE TILL 19TH OCT ( http://tinyurl.com/8n78ngw ),
Box office 020 7328 1000
See IBHM 2011pictures ( http://tinyurl.com/8g2sy4q )
Tricycle Cinema – Kilburn London NW6 7JR ( http://tinyurl.com/3ml6uof )
When: Sunday 28th October 3pm to 8pm
Tricycle Cinema, Kilburn London NW6

Notting Hill Festival 2012 at the top of Golborne Road Stand No 148
This year, MBMB will hold a stand at the Notting Hill carnival. MBMB's stand (booth number 148) is at the top of Golborne Road.
La marque
UNIVERSAL KREOL
partagera le stand n° 148, avec notre association MBMB et valorisera notre culture Kreol, lors du carnaval 2O12 (Une premiere pour notre association!!!!).
Pour pwemie fwa en tout istwa a MBMB nou ke ni on pawtenawia epi UNIVERSAL KREOL ki ke ede nou met en vale Kilti Kreyol en nou!!!!! Richard Regal ka vin ban nou on fos, vin bay on bon fos!… For the first time in the history of MBMB, our association will partner with UNIVERSAL KREOL, a High Profile Art and Design brand based in Paris!!! Come and see this fulfilling expression of our  KREOL ART… A number of goodies will be available: Spicy Accras, Poulets Boucanes, Sandwich morue poulets macreau… A specialist designer will create and sell on the spot with Creole themes; come have a look!… Come celebrate carnival in Notting hill with MBMB a la maison de la Caraibe. Creolophone – Creolophile
Francophone Francophile You are all welcome especially if you are good food and fun lovers
This will be a great fund raiser for the association and a great opportunity to become a member of MBMB.
Know where the party is later in the evening where all are welcome to celebrate and have fun?
come tell us
Looking for the party for later in the evening where all are welcome to celebrate and have fun? come see us:
MBMB wishes you all a great carnival 2012!!!!
BATUKE 2012
BATUKE is on for the third time, from the 24th to the 27th of August with  a number of
Dance Classes from 9 to 5 and night entertainment every day! I you have a packed carnival weekend, Come to unwind every evening with cabaret and fun-filled
parties until late!!! Bookings and details on
www.Kizombauk.com

STOP THE CLOSURE OF CENTREPRISE!!!
Come to give your support on the 29th of August protest, against the closure of this landmark venue.
From 7:00 pm to 9:30pm
Please email us on 
info@mbmbCharity.org
or text us on +44(0)790 652 7675 ADDRESS: Centerprise – landmark of the Diasporic community
136-138 Kingsland High Street, London E8 2NS
TUBE: Dalston Station
www.centerprise.org.uk
MBMB charity free service call center
If you are looking for a job or would like to join a master degree course…, don't look any further. We can help. MBMB has now a career advice centre, which will organise interview simulation, CV clinic, discussions on the UK job market and networking events. How to contact us? Simply register your interest by sending an email to
info@mbmbcharity.org
 with details on job, sector or the type of education you are interested in. Priority will be given to MBMB members however, we will treat all enquiries equally and fairly. Following a long period of readjustment, MBMB has resumed its activities starting with a Creole Quiz Night on the 4th of May 2012 Creole Quiz Night May 2012